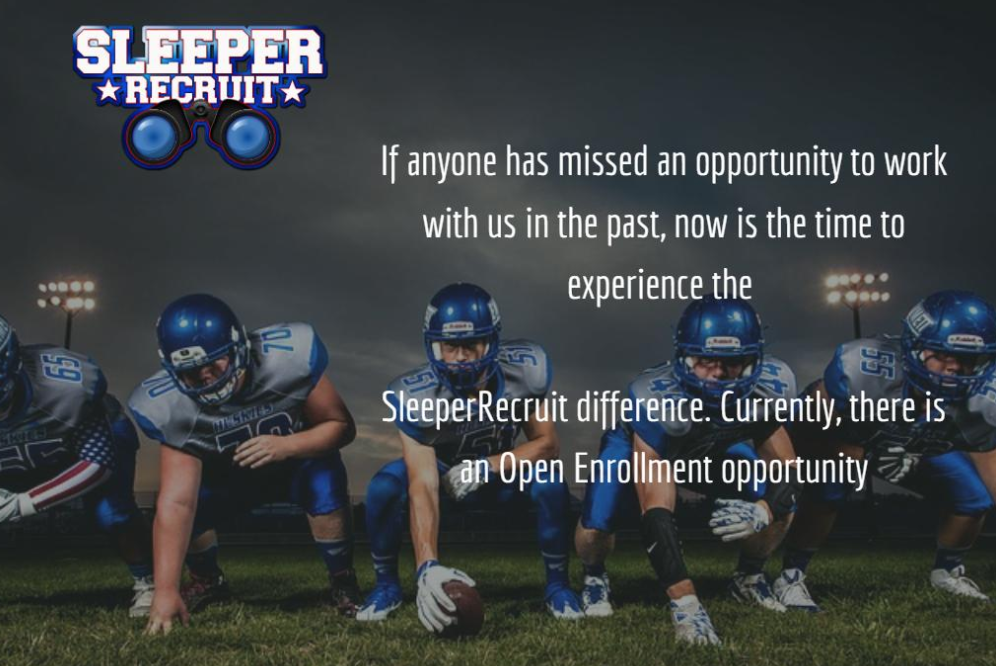 Open Enrollment
Find out more about open enrollment and promote your skills and build your athletic brand. Control your future with the added help of our recruiting process.
Connecting Athletes & Coaches
OUR SERVICES
Our mission is to Help the Unrecognized Get Recognized
. We are with you every step of the way to ensure your career dreams are achieved. SleeperRecruit believes in you, this is why we are the best fit with helping you get the best college athlete offer possible.
HOW WE DO IT
Athletic recruiting takes precise scheduling to be successful. There are several steps you can take to make sure your recruiting process stays on track. It's time to get serious. Schedule it and do it with SleeperRecruit. We're here for you.


ABOUT US
The SleeperRecruit team has more than 20 years of experience in marketing and promotion. Dedicated and inspired to help you achieve your highest potential. We are with you every step of the way to ensure your career dreams are achieved.
RECRUITING TOOLS
SleeperRecruit offers packages to fit the needs of today's student athlete. Browse our packages and find the right fit for you. Add ons are optional to meet your needs. Please feel free to contact us with any questions about packages or services. We're looking forward to hearing from you.
"An athlete cannot run with money in his pockets. He must run with hope in his heart and dreams in his head"
– Emil Zatopek
COACHES
SleeperRecruit has cemented a place for student-athletes and coaches to connect and has facilitated a foundation. We are a exposure service for both our athletes and coaches.
ATHLETES
SleeperRecruit has developed an interactive platform that enables student-athletes to promote their skills and build their athletic brand. Combining strategies and enabling athletes to be in control of their future with added help through the recruiting process.
FANS
Follow your favourite athletes into college by signing up for SleeperRecruit. Our weekly newsletter will give you stats, updates and include our Athlete Spotlight to enhance your experience. 
AFFILIATES & SPONSERS
SleeperRecruit is interested in acquiring partnership with like minded affiliate partners. This will enable solid growth and help us to acquire the necessary patrons to create a great enterprise
.